Dry Storage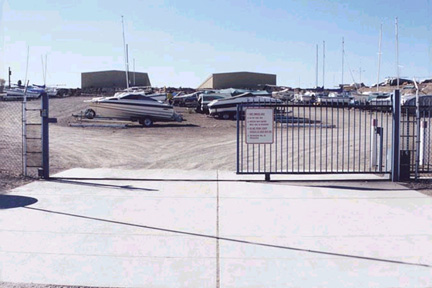 Dry Storage Area with 24-hour card key access
Located at Las Vegas Bay, Lake Mead Boat & Trailer Dry Storage
Boat Dry Storage at the lake Minutes from boat launch
ramps
24-hour security
24-hour key card access
Fuel services open 24-hours
On Site Info # : 702-565-9223 Alternate Info # : 702-293-1191
The Las Vegas Bay Dry Storage has easy access from Las Vegas and Henderson, with easy access to multiple launch ramps on Lake Mead. 24-hour card key access to boat and trailer owners, it makes it convenient for those early morning fishing outings and long enjoyable days on the lake. 24-hour fuel facility is also on the premises to take the hassle out of getting ready for the water. With ease of accessibility, the 24-hour guard gated storage facility is a great alternative to other storage facilities in Las Vegas. Minimize your towing and hassle by storing your boat with Las Vegas Bay Boat Storage.
Rates:
Enclosed Dry Storage
$225.00 per month
Room Size = 35′ long x 14′ high x 12′ wide
Door Size = 11′ wide x 14′ high
Open Dry Storage
Overall Length up to 25′ $80.00 per month
Overall Length 25'1″ to 36′ $100.00 per month
Over 36 feet Call for price and availability
Discounts are available for trailer storage with a boat in
a slip with a Boating Lake Mead
Other Charges:
Chain up Fee $50.00 (non-payment, illegally parked, or non-compliance of requirements)
Return Check Fee $25.00
Impound Fee $150.00
Late Fee $25.00
Requirements and Conditions
First month and deposit (equal to one month rent) required upfront- (2-month minimum)
Copy of current boat and trailer registration (must be in the lessee's name) must be kept in the moorage office at all times.
Proof of insurance listing boat and trailer and showing a minimum of $300,000 property liability and Pollution/ fuel Spill coverage. Las Vegas Boat Harbor was added to the policy as an additional insured. A current copy must be kept in the moorage office at all times.
Boat must be kept operational, in seaworthy condition meeting all US Coast Guard standards, and must be regularly maintained.
No Wooden hull boats.
Trailers must be kept in a roadworthy condition.
We reserve the right to refuse service to anyone Price subject to change
Mailing Address:
Las Vegas Boat Harbor
P.O. Box 60157
Boulder City, NV 89006
Physical Address:
Las Vegas Boat Harbor
490 Horsepower Cove Rd.
Boulder City, NV 89005
Email Address: Moorage@boatinglakemead.com
Fax number: 702-293-1244
Las Vegas Boat Harbor, Inc. is an authorized concessionaire of the National Park Service.